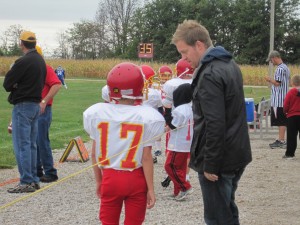 I've never been a football fan. In fact, I understand very little about the game. But Saturday night I sat for two hours in the rain to watch a fifth-grader on the field. I cheered like a crazy woman when he caught the football. And I was ridiculously happy when he knocked the other kids out of his way to "gain a couple of yards."
When he actually crossed the invisible line and scored points in something called a two-point conversion, I almost dropped my umbrella from sheer joy.
He is one of three grandsons we have playing this year, and I'm pretty sure I'm about to become a convert. Possibly even a fanatic. After the game, we asked the young athlete if any of the hits he took hurt very bad. "Nah, not that bad," he said. Then he raised his arm to reveal a couple of bruises. Grinning like crazy he said, "Man-marks."
And, there you have it. Football as man-practice. Learning to take the hits, to block for your buddy, to call the plays. To gain a few yards and call it a good day.
No wonder we cheer. Even in the rain.