Archive for September, 2012
By Kathy Nickerson
September 29th, 2012
slider
No Comments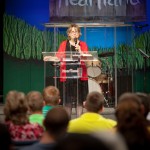 I love encouraging people, and a microphone is my favorite accessory. You might find me wearing one at church meetings, women's retreats, youth gatherings, writer's workshops, or in a classroom of future physicians.
I'd love to share a few words with your group. Just contact me here.
To contact Kathy Nickerson visit the Contact Kathy page or use the simple message form in the sidebar. We look forward to hearing from you!
Some speaking topics include:
Faith: Learning to Love the Bible, Trusting God in Hard Times, Growing with God through the Seasons of Life
Family: Making Marriage almost Happily Ever After, Stages of Parenthood, The In-law Issue
Writing: So You Want to Be a Writer, Finding Your Purpose, Practical Pointers
Tough Topics: Dealing with Addiction, Battling Depression, Cancer: the six-letter word with a four-letter attitude.
Read More