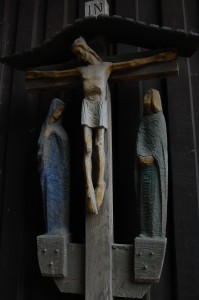 At Easter, I love reading the gospel accounts of the Passion Week from the varies writers. Each one brings his unique version of events to the page. Matthew tells us the almost-unbelievable tale of dead men walking from their graves as the victory is won.
Mark reports like a journalist scribbling notes in the field. He even includes the scene of the young man losing his nightshirt and fleeing naked from the Garden. (Many scholars believe he was talking about himself.)
Luke, the beloved physician, shows the compassion of Jesus as Savior. He records among many things these words of mercy from the cross, "Father forgive them. For they know not what they do."
But it is John, the Disciple whom Jesus Loved, who captures the most personal moment in this epic story. John has been standing with Jesus since that first day beside the sea. He was close enough to share the secret of Judas' betrayal at supper, close enough to hear the prayer in the Garden of Gethsemane. And now he is close enough to hear the words from the cross. He is close enough to know that Jesus uses one of His last breaths on earth to take care of relationships.
"John, take care care of my mother. And, mother, take care of John."