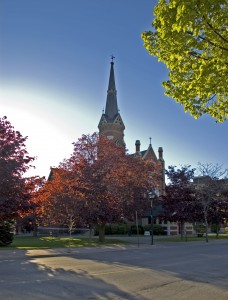 For one period in my adult life, I thought church steeples represented all that was wrong in organized religion. My friends and I equated steeples, pews, and stained glass with dead works and dry services. We were just a few years beyond the Jesus movement of the hippie generation, so we still had some hint of anti-establishment about us. We preferred storefronts and overhead projectors.
I first started changing my mind about this when we moved to a town with a beautiful Catholic Church. Anytime we were out of town for a day or a week, we made a game of seeing who could spot the steeple first on the way home. I didn't realize how much of a symbol the steeple had become until years after we left that town.
One Sunday afternoon, I made a lonely, nine-hour drive home from a trip out of state. We were going through a tough time in our lives, and my spirits were low. Suddenly, I came around a curve and discovered a small town nestled in the hills. A tall steeple rose above the trees like a punctuation mark in the spirit. A reminder that the Bethel-spot of God existed even in our darkest hour.
These days, we still worship in a church without stained glass. But it is more out of practicality than principle. Someday, we may even trade our multi-purpose gymnasium for some traditional carpeting and pews. In the meantime, I still love the sight of a steeple in the distance. I never know if the congregation inside is made up of vibrant saints or empty rituals. But it doesn't matter.  The steeple has become a homing beacon for me. Like a private message from God, reminding me He is here. And, that He always will be.