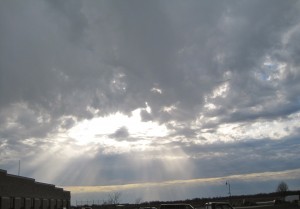 You may not have noticed this, but the world is crazy! I try not to be one of those people who focuses on how rotten things are. But, seriously, the state of things can get to a person. Espionage, taxes, murder, and perversion were all featured on the morning news today before I'd had my breakfast.
So how does an eternal optimist like myself cope with so much ugliness? Well, I'll tell you. Two things comforted me this week. The first was a paragraph in our little county paper in the "One-hundred Years Ago Today" column. A man had been shot dead by police officers in a neighboring town after murdering someone in our county. When his sister came from out of state to claim his body, she said, "He was crazy. We all prayed someone would stop him before he hurt more people."
Are you wondering why such a horrible report comforted me? Because it happend 100 years ago, people! The world is dark and crazy right now, but nothing is really all that new under the sun. We've been surrounded by Terrible since the day the old serpent entered the Garden. Yet we have survived. And even thrived in many ways.
The second comfort was much nicer. It came from Moses in the Old Testament during a time of plagues in Egypt. God was sending the terror in those days to get the attention of mean, old Pharoah. (I'm not making any correlations with today. I'm just telling you the story.)
One of the plagues was horrible darkness over the land. The Bible says the darkness was so great no one could see anyone else. So, they all stopped moving. They just stood there in the darkness, frozen.
But…But there was light as usual where the people of Israel lived. (Exodus 10:23 NLT).
Isn't that beautiful? In the midst of the Great Darkness. In the terror of the Horrible Plagues. In a time when nobody could move from the dread. God's people were still living in the light.
And, we still are. (Take that, nasty plagues.)