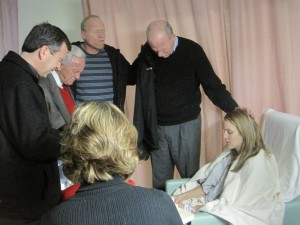 Sometimes, on a crazy Monday, our friend, Dave Barton, stops in at the clinic just to see how we are doing. He just checks in, assures us he needs nothing, and then asks if he can do anything to help. He generally turns to the crowded waiting room then and says, "I'll be glad to see some patients for you if it would help."
That usually gets a laugh. Or an offer. Occasionally someone is sick enough they don't care who gives them a shot! But we all know it is Dave's way of saying he cares. I love the comedic relief of those visit. Even more, I love the real heart behind them.
Because Dave has shown up at lots of other times in our lives. The night Felicity went into premature labor and hovered at the edge of disaster along with her twin girls. I fell asleep on a hard couch at some point in the night. Every time the pressure on my back or the terror in my heart roused me back to wakefulness, Dave was there. He literally stood in the doorway of the waiting room all night and prayed. I could almost see the sword in his hands as he dared death or demons to come near.
A couple of years later, after my husband had checked himself into a recovery center for doctors with addictions, Dave appeared in my office and said, "Well, it's been two weeks. How are you doing? You told me the first day that you didn't know how you were, but that you thought you'd be better when we got down the road a couple of weeks. We're there now. How are you?"
I was much better, in fact. And friends like Dave were one of the reasons. He also showed up at Serenity's bedside when she had cancer and at Charity's 16th birthday party with the entire youth group. I believe he was there when Joseph dumped baked beans on our pastor's lap at a men's retreat. I could go on, of course. With a guy like Dave, the stories of friendship never end. Instead, I decided to give him a secret tribute. (Although now I'm telling all of you. I hope he won't mind.) In honor of his Monday visits to the clinic and his lifetime of friendship and support, I named a character in my novel after Dave.
You will find him in chapter twenty-one of Thirty Days to Glory. Approximately page 163, I believe.  Calling Dr. Barton…