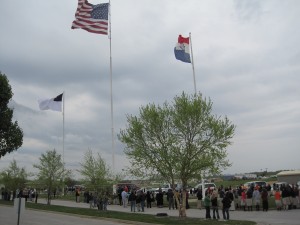 The Pledge of Allegiance is under attack. Again. Parents in a school somewhere want "under God" removed from it, and they are suing to get their way. It's just one more effort in the ageless battle to prove that the movie is wrong: God is dead. Or was never alive. Take your pick.
I strongly disagree with these parents. But I'm not worried they will win. Even if they get those words removed from the Pledge; even if they come up with some alternative creed that gives credit to The Earth Who Birthed us or some wacko idea, they won't win.
Two thousand years ago, a group of Roman soldiers were hired to keep the body of Jesus in the tomb. They rolled the stone and set a seal. They posted a guard and stood a fierce watch. But they failed.
Despite their best efforts, no army, no government, no disgruntled few can ever keep Jesus in a tomb. He walks through walls.