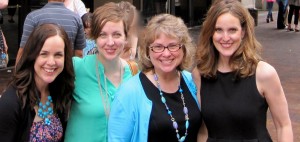 I didn't even realize I had this rare picture of the girls and I together. I think the last time we snapped one was when Felicity, Serenity, and I went to Omaha to support Charity during tryouts for American Idol in season seven. She made it to the second phase, which earned us tickets to a day-long event. And…drum roll, please…we were on national television for almost three full seconds!
Anyway, that was a husband and three babies ago for Charity. The rest of us have lived a bit of life, too. We have written books and poems, earned degrees, reared toddlers into teenagers, chased dreams, and defeated cancer several times.
So, when I clicked across this picture from an afternoon together last summer, I stopped and smiled. There we are, four grown-up women hanging out in the city. Happier to be together than anywhere else in the world.
Back in my sleep-deprivation days when these ladies were babies, I sometimes wondered if we'd survive to get here. But, look! We did. If you happen to be in the middle of the never-going-to-the-bathroom-alone years, maybe this picture will give you hope. What I wrote in Once Upon a Childhood really is true. Your kids can grow up to become your best friends.