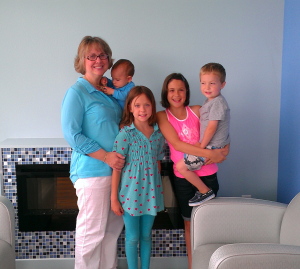 Yesterday, I wore a new blue sweater to my husband's hospital room. (He had surgery. It went well. He will be fine after a longer-than-we-like recovery.) One of the nurses asked if I was wearing blue in support of the Royals being in the World Series. I wasn't.
Nothing against baseball, but the game was not on my mind yesterday. I was more interested in the logistics of pain control and travel arrangements for the two-hour drive home with my favorite invalid.
I wore blue because my grandmother told me to. Not blue exactly, but my grandmother used to say one should always wear something colorful when visiting a hospital room. All the surroundings, especially back in her day, were so drab and stark. A splash of color in a visitor's blouse became a living bouquet walking through the door.
I think of that every, single time I visit a hospital room. Actually, I think of it lots of other times, too. Because I know what a difference the little things can make. A blue sweater on a beige day. A kind word. A real smile. A glass of Diet Coke with the good ice and a bendy straw.
This world can be a tough place, Dear Reader. Let's bring some color where we can.