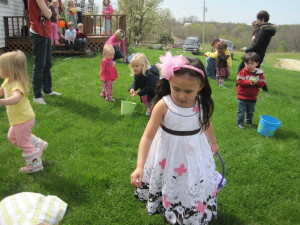 I love Easter baskets!  And I hope yours overflows with all things chocolate and chewy this year. But it is a good thing no little people are counting on me to fill one.
This week is crazy busy for me. We are getting ready to move our medical clinic from temporary quarters into our beautiful, new, expansive building. I wake up wondering if I ordered enough paper towel dispensers for the exam rooms. (I didn't.) And I go to sleep wondering if I have time to get all the waiting room chairs recovered before the grand opening. (I don't)
In the midst of that, I'm working with editors from the publishing house on my next novel. And, occasionally, I cook a little supper, do some laundry, and pay the bills.
But, I don't want to miss this Holy Week. I don't want to wake up Easter morning and realize I failed to contemplate the most important few days in the history of the world. So, I forced myself to slow down this morning and spend a little extra time reading.
I like to use one of my reference books to study each day of this week and see what Jesus was doing as He prepared to save the world. I put myself in the scene and try to imagine the cultural setting. I hear the sounds, smell the smells, and wonder how I would react if I were part of the crowd. Maybe one of the religious leaders He threw out of the Temple on Monday. Or one of the Gentile worshippers who sought audience with him through Andrew. Or maybe a poor mother watching from a corner of the Women's Court as all the drama unfolded.
If you want to walk through this week with me, here are some suggested resources:
BibleGateway.com – this free website has daily readings you can sign up for plus commentaries and study helps galore.
A good study Bible – There are several available, and you can find them at your local Christian bookstore or online. If you live in my neighborhood, check out the HCC library. I'm using The Quest Study Bible by Zondervan right now. It is an older version, but I'm enjoying it. These Bibles usually have a chart somewhere to show you the events of Holy Week in a chronology of the gospels.
A Bible App – Your smart phone holds entire libraries! I use the YouVersion Bible app, which offers a variety of Easter reading plans, plus study helps.
Actual books – for future years, you might want to invest in some reference books, or you could find them at a good library now. Here are a few of my favorites:
The Life & Times of Jesus the Messiah by Edershiem
The Chronological Life of Christ by Mark E. Moore
The Christ of the Gospels by Shepard
No matter how you spend this week, I hope you will take a little time to come aside and contemplate. This is a week that changed the world forever, and I know it can change you and me.
That's why we fill those Easter baskets in the first place!