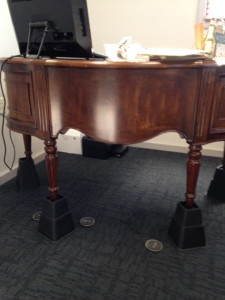 The windows in my gorgeous new office space are tall. As in, high off the ground, not tall as in long and elegant. I'm not sure where we missed this in the design. I don't remember a measurement anywhere that said, "the windowsill shall be 48″ from the floor." But they go well with the tall ceilings. And they let in gorgeous light! And, they give lots of privacy in patient rooms.
What they don't give, is a nice view in our offices. So, my doctor husband fixed that with a stand-up desk worthy of John Wayne. It is strong and tough and handsome, just like my husband. He is doing a standing desk more for the health benefits than for the lake view, so I decided to do the same thing. (Mostly for the view.) He does have a stool for those afternoons when one must sit for a while.
Trouble is, I have a perfectly wonderful writing desk that has never been adequately used due to space limitations. I worried over this for a while, until I came up with the brilliant idea you see pictured here.
Now, if you are like my good friend, Dave, you are probably worried that this look doesn't fit in our elegant, new office building. But don't worry, this is just a test pattern. Our contractor pointed out that the legs to my desk can actually be removed and replaced with tall ones!
Dave is so relieved.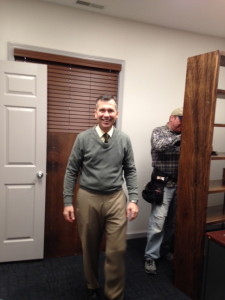 And, I care what he thinks. Dave is one of those faithful friends who is so important in life that he makes a brief appearance in all my novels. He's a doctor in Thirty Days to Glory, which explains his deep interest in our current move. I gave him an even better career in Rose Hill Cottage. But you'll have to wait until next summer to read about it. I'm finishing up the edits at my stand-up desk with a perfect view of the lake!