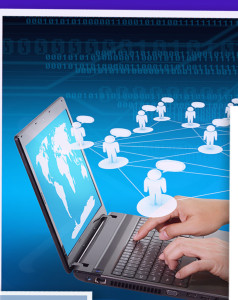 When Katie lost her job, I emailed the girls immediately and asked them to pray. After all, when our daughter, Serenity, was first diagnosed with cancer, Katie stopped in at a trendy little bookstore in her Boston neighborhood to buy the perfect Jane Austen plus a candle and snuggly socks and then wrapped and shipped them in a care package.
Of course, none of us have ever met Katie.
She is real. She isn't a character in a book or an actor in a movie. She is a fellow writer who lives with her husband in Boston, transplanted from Texas. She loves books and tea and knitting and her not-the-least-bit-trendy community of faith.
And, we feel as if we know her.
This is the power of cyber-connection. It is possible to get so involved in another person's life through social media, blog posts, Periscopes, and the like that we feel we have actually exchanged hugs. This is both the power and the danger of technology, of course. A nefarious character could disguise himself as a Kindly Katie and do one great harm.
Take Note, Dear Reader: Never agree to meet an online friend in a private setting. Don't go to their house. Don't give them your address. Don't meet in a secluded bar. Opt for daylight and lots of people. Then, bring along a real-life friend for back-up. Preferably a football linebacker or a former Navy Seal.
On the other hand, I don't think we can simply discount these cyber relationships and say they can't be real. My mother-in-law had a pen pal in Britain for decades. My grandfather married his first wife after meeting her in person only three times. The rest of their courtship was through letters.
I think we can figure out how to use the good power of technology to enhance our relationships and reach out to new friends we haven't actually met. Maybe, one of the Nickerson Girls will go to Boston someday and drink tea with Katie. But even if we don't, our lives are so much richer because we know her.
This weekend I attended a writers conference and spent intense hours with several people I only see once a year. Some of them I may never see again in earth-time. But we exchanged business cards and blog addresses. Some of us will stay in touch. We will nudge our friendships forward through cyber-connections if that is the best that we can do.
Because friendships are important. They are vital to our well-being and sacred to our souls. And they are worth pursuing even in their cyber-forms.