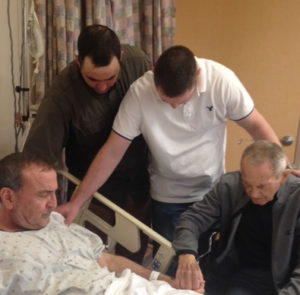 We've had a siege of sickness at our house recently. At the worst of it, I had to drive my doctor-husband to the local emergency room with a 104 degree fever late one night.  Lots of people have been concerned about him since. (He is much better now, thank you very much.) And one of the things they often say is, "Oh, I bet he was a terrible patient."
I understand why people say that. Because men, in general, tend to avoid becoming patients and submitting themselves to the indignities of hospital gowns and medical tests. I get that. And then, to be a doctor and submit oneself to the other side of the system? What a challenge.
But, it didn't go that way at all. Instead, this man who fights death and disease for other people every day handled his own weakness with total grace. No complaints. No resistance. Even when the fever and infection made his brain a little goofy, he cooperated without a grumble.
We talked about it a few days later, and I thanked him for making the whole think easier for me. "Well," he said, "I hope I have an internal value that tells me to listen to you. Or to our kids and our friends. When I was too sick to think straight, that value kicked in, and I just followed it."
An internal value of listening to the people he loves. What a magificent trait. 
I've thought of that conversation many times since. I wonder how many arguments we have avoided, how many decisions we have reached, how much real joy we've experience all because my husband has an internal value that allows him to listen to other people.
He mentioned it as if it were no big deal, like a family trait he inherited or a personal preference for grape popsicles over cherry. But, I know better. I know this value is something he has fought hard to cultivate. It is something he continues to fight for every day.
And because of that, we both win.