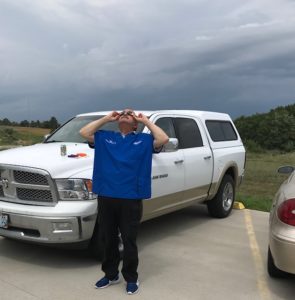 We live in a 98% zone for the eclipse that happened this week. My husband and I assumed that would be "almost as good" as the total eclipse. We might have been wrong about that. Plus, we had clouds in our little village, so we only got one peek at the phenomenon before the gray clouds covered up the show. However, we had a fantastic time! Let me tell you what I learned.
People Make the Party. My husband, Wendell, and I sat in the back parking lot of our clinic to watch the eclipse We shared lawn chairs with some of my best friends, who happen to also make up our nursing staff. We had a party going long before the clouds rolled in. Wendell told stories. We talked and laughed and felt the excitement building even when we knew we were going to have rain. Some of our other friends dropped by to compare notes. "Did you catch that glimpse before the clouds came in?" "We did! So awesome."
Being Happy for Someone Else Makes me Happy. Our friend, Scott, watched the total eclipse from the roof of his church in Casper, Wyoming, nine-hundred miles away from us. And, I watched it through his commentary on social media. Scott's enthusiasm was so vivid that I almost felt I was there. Friends from Oregon and Nebraska also posted, and it felt like they were all saying, "This is the coolest thing ever, and here it comes toward you! Get ready." I knew we wouldn't see what they had seen, but I felt so happy for them that I couldn't stay sad about our clouds.
Sometimes, the Big Thing isn't the Only Thing. We didn't actually see the moon cover the sun. But, we felt it. Evening insects started to sing. The atmosphere around us grew soft and heavy. Street lights came on. And everything felt still for one, brief minute or two. I had a real urge to hug everyone in our little circle because the world is just so completely wonderful.
I've had some profound moments watching films or stage plays. Those special effects simply wow me. But there was something completely different and powerful about this event. It was real. Alive. And orchestrated by a Creator who bends low to hear me when I pray. That, Dear Reader, is amazing.