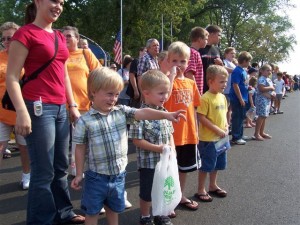 I know it's fall, because it is festival time in our area. We celebrate the harvest with things like a Soybean Festival, a Corn Festival, and a Sheep Festival. You can attend the Old Thresher's Reunion, Farmers Days, or simply The Name-of-My-Town Homecoming.
This might seem like a small town phenomenon. We do these kinds of things quite well. But, this year, I celebrated fall with festivals in both a small town (population 1,112) and a city (population 446,970)
I discovered some interesting things: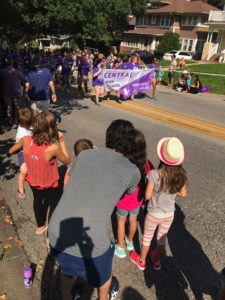 High school marching bands are not the Rose Parade. But, they make grandmothers everywhere believe otherwise.
City kids dive for candy just like country kids.
Small town festivals have a coming-home, reunion feel. City festivals have a nice-to-meet-you, let's-build-a-community feel. Both give me hope for our nation.
Both festivals had street vendors and food trucks. Pretty much the same. Both had local eateries in the neighborhood for families who wanted to sit down in air conditioning.
The small town spots, however, could not say that Warren Buffet and Sir Paul McCartney had once dropped into their place for ice cream. I did have to give some points to the city simply for atmosphere.
However, after walking the length of the city streets and back again, we did make one astonishing discovering that caused Dundee Days to drop into second place behind the CornFest despite its Beatles cool factor. There was an astonishing lack of funnel cakes.
Happy autumn, Dear Reader! May all your harvests be festive!