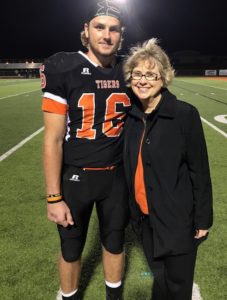 A couple of weeks ago, I was invited to speak at a women's retreat in a neighboring town. I thanked the hostess but told her I had a conflict on Friday night. My conflict was Senior Night at the last home football game for our eldest grandson. My hostess assured me that didn't matter; they wanted me to speak on Saturday. Perfection. I put the date on my calendar.
If the same scenario had happened a few years ago, I would have agonized over the decision. I would have automatically assumed I had to choose church-stuff over football if I wanted to please God. I still live by "Choose first the Kingdom of God." But my understanding of how far God's kingdom extends is a little different than it once was. I don't think all the Kingdom stuff happens within the walls of a church building anymore.
Instead, here is how I make decisions when I have too many good options:
Which option includes a long-term relationship? – Although many of the ladies at the retreat are my long-time friends, John Michael is our family. My husband and I have made a commitment to "be a witness" of our grandchildrens' lives as much as possible. With fourteen of them (so far) in two different states, that is a challenge. So, the eldest gets priority, and we hope to catch the others in future years and events.
Which option will never happen again? – Senior night. Enough said.
Which option has the chance of reaching someone who hasn't met Jesus? – You would assume the church event, wouldn't you? And while that is true, I knew my fellow speakers would have that one covered. John Michael is a strong leader on and off the field. His walk with God is recognized even by friends who don't share his faith. Who knows what spark might happen in a heart just by watching how John Michael treats his grandmothers after a game? (He always comes to kiss and hug us, win or lose.)
Which option passes the Eric Liddell test? – In case you haven't seen Chariots of Fire recently, when the Olympic runner was asked why he was still running instead of going to China as a missionary, he said that he would accept the missionary call eventually. But, for now, "When I run, I feel His pleasure."

On Senior Night, I got an email from John Michael's mom, Serenity, saying the weather was going to be awful. "If I didn't have a kid walking out there for Senior Night," she said, "I wouldn't be showing up!"
"Right," I wrote back, "I have one. It's you."
When John Michael was five years old, Serenity got attacked with a rare and aggressive cancer. We didn't know if she would live to deliver the baby she was carrying at that time, let alone live to see all three of their boys become young men. I'm pretty sure the White House could have called that Friday night and I would have turned them down so I could sit in the drizzle at Spainhower Field instead. It was easy to choose our daughter and her handsome husband and their magnificent quarterback son. I knew I was choosing the Kingdom first. Plus, I had to be a witness.