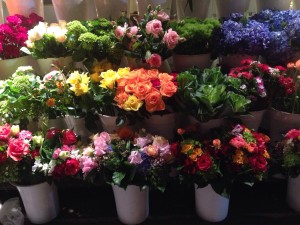 Surely, we are done with snow in the Midwest. May Day is upon us. You, dear reader, may wish to do your own Google search and learn all the interesting facts about this holiday which is not celebrated as it should be in my part of the country.
The leaving of May baskets, the offering of flowers, and the eating of cakes should be upheld! I'm thinking of starting a petition. We can leave off the dancing around poles (in any form), but we truly should have flowers. And cake.
Won't you join me in this endeavor? With all the bad news in the world, let's take a moment to raise a fork and take a bite of lemony cake in celebration of the coming of spring. You may substitute chocolate if you prefer. And, if you choose white cake, please add some sugar roses. The old-fashioned kind.
If eating sugar (or gluten) simply doesn't work for your lifestyle, please have flowers. A tiny posey full of violets, a gigantic bouquet from your local florist, or daffodils from the garden. Let May Day burst forth in the promise that spring has come again this year, and that God is once again making all things new as a foreshadowing of the eternal renewal to come.
Happy May Day!
(And, Happy Birthday to my friend, Cheri.)