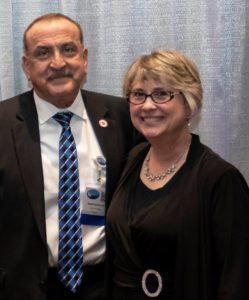 Forty-four years ago this evening, I walked down the red-carpeted aisle of a Methodist church to marry the man of my dreams. And, of course, you know what happened next. Babies, bills, breakdowns, and breakthroughs. All the stuff of life. Since we started out together as teenagers (I was 18), we had to grow up together. And we did. Not always elegantly, but God was gracious.
One of the things we had going for us was an attitude Wendell brought into our marriage. We would never use the "D" word out loud or in our minds, and we would hold onto the belief that things would just keep getting better through the years until we became two old people still madly in love.
He was so right.
That is the good news. Life can be hard and mean. People can fail and disappoint. But, if you both hold onto Jesus and to one another, marriage truly does get better and better through the years.
(If you are fighting for you marriage alone, I'm so sorry. I'm not writing this to make you feel worse. Please know my heart hurts for you, and God sees.)
If you are in a committed marriage, if you are overwhelmed with the trials of life, if you wonder whether you can ever get back to the romantic days of your youth, here are a few things I can tell you about long marriage:
We like one another even more than we did in the heady days of wooing.
The irritating habits that showed up a few years down the road have become endearing traits. (Or, at least neutral) 🙂
We've survived some of the worst life has to offer, and we still believe in the best.
A strong foundation makes a great launching pad for new ideas, dreams, and even careers.
The best moment of the day is the bedtime snuggle.
The sheet music of life can go from a fun duet to a fine-tuned symphony.
Arguments are fewer, shorter, and don't leave battle scars.
We were right about our kids. They grew up to become our best friends.
Grandchildren. Enough said.
And, now, even after all these years, we still truly believe the poet Robert Browning who said, "Grow old along with me! The best is yet to be …"