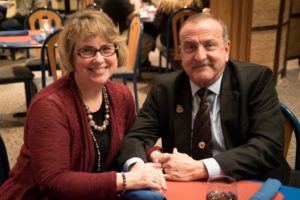 Last week, I went shopping for a black skirt and a pair of slacks. If you know me, you are aware this is a form of self-inflicted torture. I shall admit up front that I failed. Mostly because I got lost in the Christmas aisles at Hobby Lobby and used up all my time. However, I am determined to try again this week.
I did get something of great value from the trip, however. Better than the perfect skirt or a bargain on tinsel, I got the best words from any husband ever. These would be the best words from the husband of a supermodel. They are especially best from the husband of a grandmother who is trying to age gratefully, but who is failing in a few areas.
As I pulled into the parking lot at the department store, my phone dinged, and I found this text:
While you are shopping for clothes today, keep in mind when you look in the mirror you are looking at the woman I love. That woman is the most attractive woman I know. 
Yes, I swooned.  Now you understand, Dear Reader, why I am dedicating my newest novel to Wendell:
My husband, lover, partner, and friend.

Thanks for choosing me every day since 1973.

To celebrate such love, and to set a mood for this month's soon-coming release of The Marvel House, here is a song from the famous duo of Ryan & Charity Long.