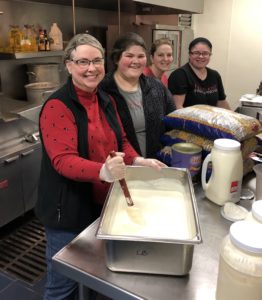 Hello, Dear Reader. If you know me at all, you are probably laughing at this picture of me wearing a hair net and posing in a commercial kitchen. Or, in any kitchen, for that matter. My newfound freedom from the Day Job has made me a little reckless. (I'm still actually doing the Day Job, but from home. On my own schedule.)
So, when sign-up sheets came out to volunteer for our church's annual missions conference, I picked kitchen spots. I smiled at memories of my grandmothers and their friends decked out in checked-gingham aprons, chatting together in the church kitchen while they peeled potatoes or sliced tomatoes.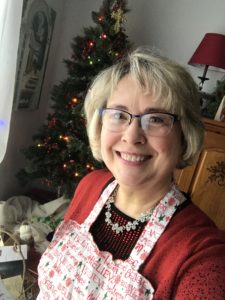 Alas, I had already packed my aprons for our upcoming move. I wear them mostly for decoration around the holidays anyway. I did remember to bring comfortable shoes. That turned out to be the best decision of the day. Let me just say, I have even greater respect now for the ladies who keep kitchens running – at home, at work, and around the world.
Thank goodness for the sweet Bible College girls who showed me how to rinse fifty pounds of pasta in the giant sink. And for Sarah, the head cook, who remained patient and kind even when I couldn't find the timer on the oven. My one great accomplishment for the day was naming one of the main dishes for the menu cards. That one was easy because, you know, Words.
I'll go back to the kitchen one more day this week. Not because I discovered a buried talent (or love) for cooking. But because of the motto our family has lived by for years. The grammar is poor, but the sentiment is lovely:
The part I play is less important than the [family, church, job, production, mission] I'm part of. 
Sometimes, our family philosophy is best expressed in movie lines: In The Muppet Christmas Carol, Gonzo picks up Rizzo the Rat and uses him as a rag to mop a dirty window so they can see inside. Rizzo responds:
"Thanks for making me a part of this."
Amen, brother. Amen.