This is Clementine. Clem for short. He is not my cat.
Clementine showed up during CousinsCamp19. My longsuffering husband had just helped me haul ten grandchildren on a six-hour trip from their home to ours. Then we were joined by a local grandson plus a few drop-in second cousins and some friends. We did not need a cat.
We have been in this house barely a month. The master-suite is still under construction. We have one bathroom, which was being shared by fifteen-ish people when Clem showed up. Did I mention we don't need a cat?
The first day, I growled at the children to ignore him. They must not pet him under any circumstances. When they whined that he looked hungry and sick, that he needed tending, I shook my head. "He has been out all night chasing women," I told them. "We shall not condone his behavior by giving him food. If we ignore him, he will go home."
The second day, one of the children admitted that the cat might have eaten the hotdog I dropped from the grill. (my bad) And that they might have given him water.
At the end of the day, one of my son-in-law's dropped in. This man is the same boy who used to sit in our house and torment our cat from that era. He is a dog guy. Totally. And yet, I heard a hint of compassion when he looked at the scruffy cat and said, "Yeah, he's not going to last long."
Suddenly, I remembered Elmer Grisgby.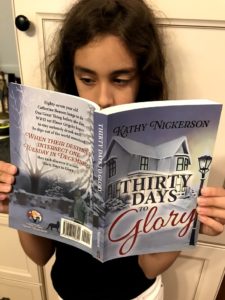 In my first novel, Thirty Days to Glory, Elmer is a reclusive war veteran whose only relationship is with his cat. In one chapter, Elmer finds a treasure trove in the local dumpster and ends up dividing the sardines with his cat. This spring, a reader came to one of my book events and brought a calendar in honor of Elmer (you'll have to read the book) and a tin of sardines for his cat.
I still had them in my pantry.
And so, I fed the cat. A whole tin of sardines, which I realized might kill him if he was really starving. But, I still suspected the chasing women theory.
This morning, when I went out to sit in the early hours and listen to the birds sing, the silly cat tried to sit on my lap. Several times.
We do not need a cat.
Who is named Clementine.
And who likes sardines.
And who wants to snuggle after the grandchildren have gone home.