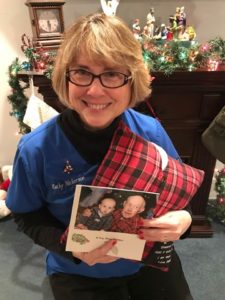 Last year, I couldn't even bear to put out a picture of my dad at Christmastime. And the first week of the month reminded me how much I missed my mother-in-law. The cold, grey days brought back memories of a cemetery sixteen years ago and of a grandbaby ushered into Glory before she ever experienced earth.
This year, though, I pulled out that picture of my dad in his red, plaid Christmas shirt and put it on the fireplace. I hung an ornament in memory of GrandmaNickerson. And, I felt grateful that Ellery has been enjoying Heaven for seventeen years. Although I'm sure time is different in her realm.
I don't miss the people I love any less, but just like the Bible describes, I have been comforted. The Comforter has been reminding me about the best miracle of Christmas:
The baby in the manger is coming back to earth again. And, this time, there will be plenty of room in the inn, because Jesus will be in charge. Plus, He isn't coming alone.
Jesus is coming this time to make all things new, including our relationships. All the people who belong to God will be together again. Forever. We will celebrate. And feast. And spend eternity living together around the amazing love of God. I have no real idea what this will look like, but I promise you, Dear Reader, it will be more glorious than any lights on The Plaza or trees in Rockefeller Center.
If you are mourning this year, please be blessed in your grief. Reach out to Jesus. Touch the hem of His garment like the woman described in the Bible. Ask Him to send the Comforter to you and give you hope as you mourn. I promise He will respond.
Blessings,
Kathy
You might also like the following blog post: