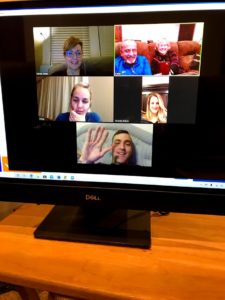 Yesterday afternoon, I drove an hour to a grocery store that offered curbside pickup. I wouldn't have to get within six feet of anyone! Unfortunately, they were out of some of the important stuff. Today, I took advantage of early-morning Old Lady Hour at our local grocer. It's kind of like Happy Hour only we buy toilet paper and ground beef. (I wore rubber gloves and dodged the three other shoppers. I even paid with plastic so I didn't have to touch the store money in change.)
Anyway, since I had to be out and about yesterday, I pulled into the town where my mother lives and stood on her threshold long enough to see her sweet face, but not within spitting distance. Later, I stopped by the house where my daughter and her family live. I stood in the driveway, they stood on the front porch, and we chatted like starving people. On the drive home, I got a text from another daughter saying, "Can we all video chat tonight? I need to see you."
So, we did. Thanks to our techie, adult children, my hubby and I  Zoomed in like all the college kids. We talked about the scary stuff and discussed the moments we felt panicked. Or at least uneasy. We talked about our favorite memes and posts on social media. We laughed. A lot. Especially when our son finally held up his hand for a turn to talk between his sisters and me. In the end, I think we all went to bed more peaceful from having connected.
I am so grateful for technology right now. For Jimmy Fallon doing the Tonight Show from his house with his kids climbing on his head. For our pastor doing five-minute devotions each morning on the church Facebook page. For every person who creates a meme that makes me laugh. For our family email group that my mother still reads every day even though a mini-stroke keeps her from typing back a response. For the text I got from our teenage granddaughter with a podcast she thought I might enjoy.
Life is hard right now. Social distancing and voluntary isolation wear us down. But, thank God for the witty inventions that allow us to connect to one another even as we stay apart. (Proverbs 8)
God bless the innovators. May they figure out the transporter next, because when this is over, I want to hug every one of your necks!!