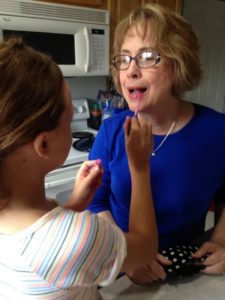 Hey, you guys, someone officially named today National Gorgeous Grandma Day. I love this for many reasons. Here are my top three.
I share our 16 grandchildren with five of the most gorgeous grandmothers God ever created. Shout out and love to Jane, Cheri, Joyce, Nita, and Bonnie. (In the order we became happily related.)
My mother and grandmothers were gorgeous women inside and out. My sweet mama continues to show us what a godly Great-Grandma looks like.
Claire.
Our first granddaughter and her twin sister were born early as micro-preemies. Ellery went home to Glory after a few hours, and Claire continued to fight the good fight. Four months later, she finally came home with all kinds of challenges ahead. When she reached preschool age, she still wasn't talking much. The few words that came out were generally in whispers. So, her wise parents enrolled her for speech therapy with the wonderful Mrs. T.
I occasionally drove Claire the few miles to school, and I always did my best to get a little conversation with her. One day, I said something, and she replied, "Silly Grandma."
"Nope," I said. "I'm your gorgeous Grandma."
She agreed and called me that all the way to school. Feisty Claire is ready to start her senior year of high school in a couple of weeks. I often think of that car ride and two of the sweetest words I ever heard. "Gorgeous Grandma." I am so grateful.
(PS: You should probably send yours a kiss today.)