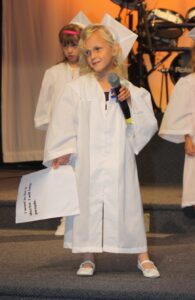 I remember how we worried the night of your kindergarten graduation. We weren't sure you could handle those three steps up onto the stage without help. We couldn't imagine, then, that you would one day become the manager of a state championship boys' basketball team from the largest high school in your city. Nor that the boys would send you up the ladder first to cut the net the night they won districts again. (We would have been partially right about that one. You scaled the ladder, but you couldn't quite manage the cutting and the climbing at the same time. Fortunately, one of your classmates scampered up the ladder from the other side and helped you with the net.)
That is the kind of thing I didn't count on when you were born. Three months early. So tiny your dad could hold you in the palm of his hand. Like a baby kitten, you didn't even open your eyes for several days. Is it any wonder I wanted to wrap you in soft blankets and protect you for the rest of your life?
But, I would have been wrong.
I would have kept you in the house on the quad of our neighborhood where I could watch you safely on the playground each day. When your family moved to the big city, I would have kept you in a small school where your other Grandma could watch over you for both of us. When you transferred to a downtown school where your class was bigger than the population of my entire town, I would have shuttled you to a sheltered track of academics and activities.
But, I would have been wrong. Every time.
Fortunately, God and your parents knew much better than I did. On Thursday night, I wasn't a bit worried about you walking up on the stage in that huge stadium to exchange fistbumps and graduate from high school. You've been climbing flights of stairs at school every day the past four years. And, you've been overcoming obstacles I would never have allowed in your path.
I'm so glad I was wrong. It is fitting that you graduated as a Central High School Eagle. You are soaring into the next stage of life, and I couldn't be more proud. Look out, world. Here comes Claire.