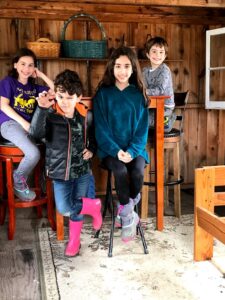 I've been eagerly awaiting a visit from some of our grandchildren and their mama.  I've planned the food, the fun, the bed space, the projects. I've been counting the blessings of all those hours together. They finally arrived last night at bedtime. Today, our dining room table is covered with Legos. The bar is sticky from breakfast waffles and our version of The Great British Baking Show. We are tripping over small boots and heavy coats.
I looked around the house a minute ago and thought, "Wow. Blessings are messy."
Isn't that true of life? People are our greatest blessings, and we are a big ole bunch of mess most of the time. I know I am. Yet, isn't it worth the trouble? Isn't love worth all the sticky moments, the crowded seasons, the disrupting of our rituals and routines?
Yes, absolutely. Every relationship brings challenges. And every person brings blessings.
Embrace them all, Dear Reader. Happy Thanksgiving.