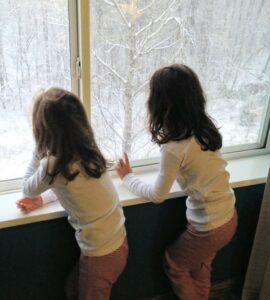 We are waiting for snow here in our neighborhood. Major snow. Schools cancelled 24 hours in advance based on the predictions. They even cancelled basketball games. That is serious in our part of the world.
And yet, it looks a little more like spring through my office window. Mud puddles in the driveway. Green grass in patches all over the yard. Squirrels scampering among the trees. Despite the muddy view, I believe the snow is coming. I know weather people can be wrong, but they seem pretty certain about this one.
The anticipation today has reminded me that we are also waiting on something more important than snow. We are waiting on Jesus. We just came out of the advent season where we celebrated His first coming. Now we are back in ordinary days on the Church calendar. The days in which I often remind myself that Jesus promised He would come again. Soon and very soon. Whatever that means in God language.
So, we wait. We anticipate. We prepare our hearts (or our pantries, in case of snow) the best we can. Today, while I wait, I've enjoyed the squirrels. I've hugged my husband. And I've chatted with friends and family online.
It is an abundant life, even in the waiting.