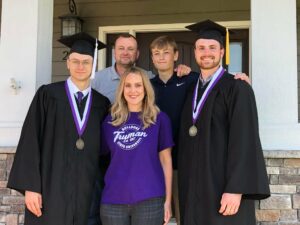 This weekend, our two oldest grandsons led the way for several years of college graduations in our family. (Nod to the grandson who may become a chef and open an eatery on the beach. We will celebrate with equal vigor.) Seeing these men in all their finery, with medals and cords and caps and gowns, I remembered that it was only yesterday they were asking their mama to tie a baby blanket around their shoulders and, "Make me Superman."
It went fast. But, we didn't blink. We have participated and/or witnessed so many moments in their lives. I feel completely ready for the little superheros to be grown men launching out into post-graduate education, careers, marriage, and families of their own someday.
Change is inevitable. And good. So, I'm embracing this moment, too. I'm celebrating it the best I can with the help of technology. (God bless the Live Stream people. ) I don't want time to slow down. Or stop. I want to keep moving with it, even if I'm doing that through a computer screen in a distant city.
Today, I'm cheering for all the graduates in our lives as they tie on their imaginary capes and fly out to take on the world. I'm counting the blessings. And I'm sending along lots of prayers, trusting the future is safe in God's hands.