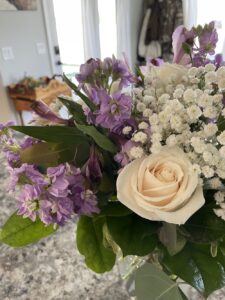 When we had been married 25 years, I remember walking through the house at night and wondering how I could possibly have this home, this husband, and all those teenagers sleeping upstairs. I felt like an eighteen-year-old most of the time.
This year, my nighttime trips to the bathroom do not evoke that response. In fact, I'm probably a fall risk.
We will celebrate our 49th this weekend, and we don't feel ancient. Well, not exactly.  We did marry as teenagers. Wendell had turned twenty a few months before the wedding. But twenty wasn't old enough for a boy to get a marriage license. His mama had to go to the courthouse and sign for us.
We are not those teenagers anymore.
My arthritic feet ache as I trudge across the house, and my sacroiliac screams for the first several steps. I'm no longer surprised to see an old lady staring back when I glance in the mirror. She looks scary sometimes but not unexpected.
You may tell me that age is just a number. I will tell you the number comes with side effects. And, yet, it also comes with benefits. This morning I turned on a radio station of 70's love songs. I admired the flowers we didn't even have to buy because a friend sent them. And, I smiled across the table at the man who has shared decades of better and worse with me.
While Jim Croce sang "Time in a Bottle" we table danced together. (Not to be confused with dancing on the table. In this activity, one remains seated beside one's partner, leaning in and swaying to the music in a long hug.)
The privilege of living with the same person for all these years – to love and be loved with all our foibles – is a treasure we do not take lightly. Back in the day, we used to promise one another that life would get better every year. We were pretty naive about the hard things ahead. But, we were right about the getting better part.
We aren't teenagers anymore. And, we are grateful.