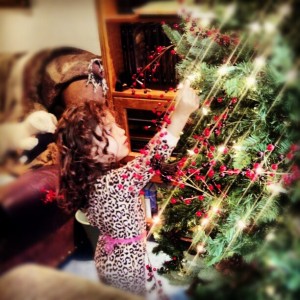 The house is quiet now. Only the sound of towels tossing in the dryer and the tick of the clock on the mantel. We have gathered up the left-behinds (only one pair of hoop earrings and a tiny sock, so far.) And now my love and I are sitting side-by-side in our chairs soaking in the silence and the memories.
Stumbling over cots in the kitchen, because we ran out of room long before we ran out of family.
Washing dishes slowly by hand, because I wanted to keep watching the grandchildren playing ball on the lawn.
Humming along with Christmas tunes while granddaughters danced around the living room with their daddy.
Whispering "I love you" more than once at bedtime just to hear a toddler repeat it.
Savoring table conversation with children who have grown up to become our best friends.
I often regret not having a big house to welcome them all home. Or at least having one more guest room so they don't have to come in rotations! We made it work this year, even though our holiday didn't live up to the Better Homes & Gardens version in my mind.
But, then, I look at the lopsided-Christmas tree decorated by four-year old Nola. I had planned to re-drape the garland when she left. And space the berries more evenly. Then one ornament caught my attention. It was the final one she insisted on hanging when everything else in the box had been used.
I told her it didn't belong on the tree, but she hung the cluster with great care, right in front, where everyone could see. A shining tangle of ornament hangers that should have been tossed last year. 
I'm leaving it right there.
Did everything go smoothly this year? Was our Thanksgiving holiday without mishap and worthy of  a magazine spread?
No. Better than that. It was perfection.
How about yours?