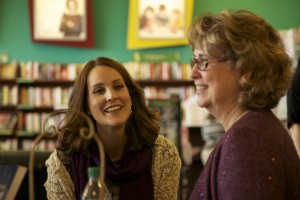 So, as our daughter Serenity has told her readers, she got some not-so-great news at her last cancer check-up. It will result in a PET scan followed by some kind of surgical removal of the spot. Hopefully something called a CyberKnife which does not include chest tubes and long hospital stays.
You might think we are facing a sad Thanksgiving this year. But it doesn't feel that way. In fact, it feels more celebratory than usual. Grandchild #13 is due to be born at some point during the festivities, because Serenity and Charity have an uncanny ability to coordinate a cancer crises with a pregnancy. They've done it before. More than once.
Plus, all our children will be together in one place for more than twenty-four hours! We are driving to Dan & Felicity's house to feast upon food and great conversation. We plan to solve all the problems of the world while we are together. Not the least of which will be how to face cancer. One. More. Time.
And here is how we will face it: One breath at a time, delivered straight from Heaven into our souls. And, while we are facing it, we will laugh and love and talk until we can't find anything more to say. Which will take a long time.
Once again, we are surrounded by such a wealth of friends and family who cheer us on and pray us through. On this Thanksgiving Day, I am so thankful for each of you. Let me tell you through Serenity's beautiful words in her book The Thank You Room:
When I was diagnosed with cancer, I was overwhelmed by the people from our life who stepped from the crevices of our history to stand with us..It was beautiful and overwhelming and more than I could fit in a mansion of rooms. And the way I felt about it was way more than I could fit in a thank you card. But maybe this will do. A book about them — the people in life who make us never want to leave. I hope you have those same people around you making your life great.
So, Happy Thanksgiving to you and yours, from me and all of mine!