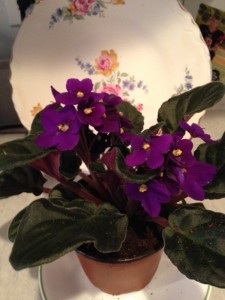 I bought this sweet violet the other day on a whim. It reminded me of one Wendell bought me thirty-five years ago when Mother's Day and our anniversary fell on the same weekend. Once I reached the car, though, I remembered that I would be going away the next morning for what could turn out to be a very long stay at a hospital bedside. I wouldn't even have time to put the flower in a decent pot.
"Oh well," I thought. "The violet will make me happy for a few hours. It was worth the price just for that."
Nearly two weeks later, I came home again. The patient was mending, but I felt slightly ragged from the ordeal. When I walked into the kitchen and dropped my bags on the counter, I saw the violet. Still perky. Still vibrant. Still perfectly alive and healthy despite heat, neglect, and dry air.
And suddenly I remembered that not everything in life is as fragile as it seems. That is very good news, my friends.