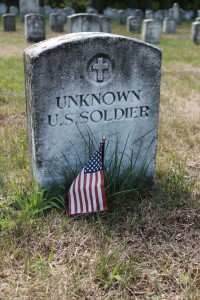 In Flanders fields the poppies blow
Between the crosses, row on row
So begins the famous poem by John McCrae. Most of us won't be reciting it on Monday while we barbecue brats and celebrate the official First Holiday of Summer. But, in Arlington National Cemetery, soldiers from the United States Army's 3rd U.S. Infantry Regiment will have been on twenty-four hour patrol.
The "Old Guard" will have one task: Keep watch over the more than 260,000 small American flags decorating the graves of our fallen heros. Make sure no flag slips sideways. Keep them standing straight.
Maybe we could each ponder that and pause before we dig into the baked beans. Maybe we could say a brief prayer of thanks for those who have served and a prayer of protection for those who still are.
May we add fewer flags this year.