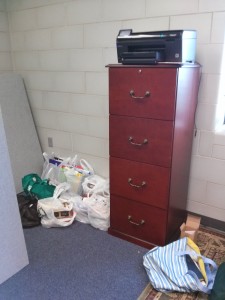 This is the sad state of my writing/administration office. While our clinic is waiting for a new building, I've borrowed a spot from the local college for the tasks that can't be done in the noisy, shared space of our modular unit. It is perfectly quiet and conducive to working. But, I haven't taken time to settle it yet. I just moved in and started writing.
So …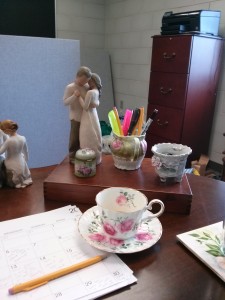 This is how I cope. Note that when I sit at just the right angle, the lovelies on my desktop completely hide the clutter. I've trained my eye to focus on the cup, not the chaos.
I handle the craziness of life in much the same way. Daughter seeing a surgeon today about a possible cancer recurrence? Pray for that, then focus on the book signing we have coming up on Saturday.
This technique works well for me. It is one way I keep my eternal optimism in a world filled with wars and rumors of wars, as the Bible says.
What works for you?