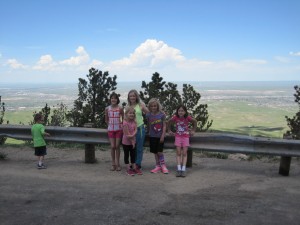 Today, I went up a mountain. It was pretty much against my will. The trip to the waterfall at the base of the mountain was lovely. The daredevil drive to the Look Out, not so much. My problem with mountain driving is that it feels way too much like the ascent of a roller coaster without the knowledge that my car is actually secured to the tracks.
I can't explain the irrational fear, because, it is irrational. But I can describe the heart-pounding, breath-sucking, almost-uncontrollable-urge to scream and beg to wait on this curve for the party to come back down.
Since we had granddaughters with us on this roller coaster, I resisted the begging to be let out part. I did, however, hide my head.
Once we reached the top, the view was beautiful, of course. And I agreed with everyone who said we'd been perfectly safe on the wide, well-maintained road. The trip back down was actually enjoyable since my side of the truck was hugging the rock instead of the precipice.
But, here is the thing. Facing my fear didn't make me overcome it. If you offer to take me up the mountain tomorrow, I'm pretty sure I'll react the same way. I don't know if my crazy fear of Death from Falling will ever go away. I only know I can face it when I have to.
And, that is probably a form of overcoming after all.