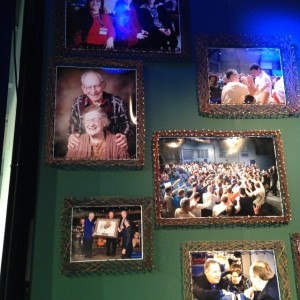 This is one of the walls the amazing Eliza and crew designed in our church during our recent missions conference. The theme was One Family, so, of course, we hung portraits of our family from around the world.
The couple in the top left corner is among our heros of the faith, and I'll tell you why.
John and Grace spent decades on the Ivory Coast translating the Bible. When they came back to the states, they opened their home and their hearts to scores of hurting people at their retreat center called Shiloh. The stories of their sacrifices are legendary, yet they counted it all as reasonable service. Grace went home to glory a few years ago. We helped John celebrate his 100th birthday during the conference, just after he took the microphone to testify of God's goodness.
None of those heroic works are the things we remember when we see this portrait, though. Instead, we all see a different picture. A snapshot, really. We saw it every time they came to visit, and it never failed to move us and to remind us of what really matters.
It is the picture of John and Grace walking down the hallway at the end of a long day. And they are holding hands. Just like they always.
When the years had taken their toll, and the bodies could no longer offer much in the way of labor or service, that one simple act of devotion inspired us.
To reach out.
To hold on.
To love.