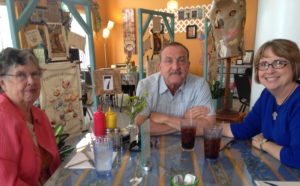 One day this summer, my husband and I stopped in and offered to take my recently-widowed mother out to lunch. Or, we could bring something in if she didn't feel like getting out. In typical fashion, she not only felt like getting out, she offered to take us to a classy new place in town. The eatery had charming, French decor in the upstairs wing of an historic building. "The only problem," my mom said, "is we have to climb a long ramp to get there. But I think I can do it."
And, she did. This is so typical of our mother. Three years ago, she became so ill we thought she might not live. I slept in a hospital waiting room several nights outside the intensive care unit.
At one point, Mom grew a little muddled and started thinking something treacherous was going on in the hallways. We did our best to reassure her that nothing evil was happening. Yet, her paranoia continued. I knew this was common for seriously ill people in a hospital setting. Yet, it broke my heart to see our normally optimistic mother so troubled.
One morning, I hurried in as soon as I could and asked how her night had gone. "I slept much better," she said.
"Oh? You weren't worried last night?"
"No," she said. "I finally decided I would just turn my face the other way and stop looking at that doorway. Then I wouldn't have to think about it. And that worked."
This is our mother's attitude toward life. A few weeks after she took us to the little French restaurant, she became seriously ill again. This time, the trip to the hospital involved a bigger city and scarier things. But she never once grew worried. She kept her face turned toward Peace. And Trust. And Faith. Faith in the God who has carried her more than eighty years, and faith in the children who have promised to fulfill her medical directives, and faith in the sweet nurse who held her hand until we got there.
She is back home again now. Weak but growing stronger. Shopping for something festive to wear for the holidays. And, as always, keeping her face turned away from the things that trouble and toward the things that calm. She does not pretend the trouble isn't there. She just chooses not to dwell upon it.
I shall endeavor to do the same.