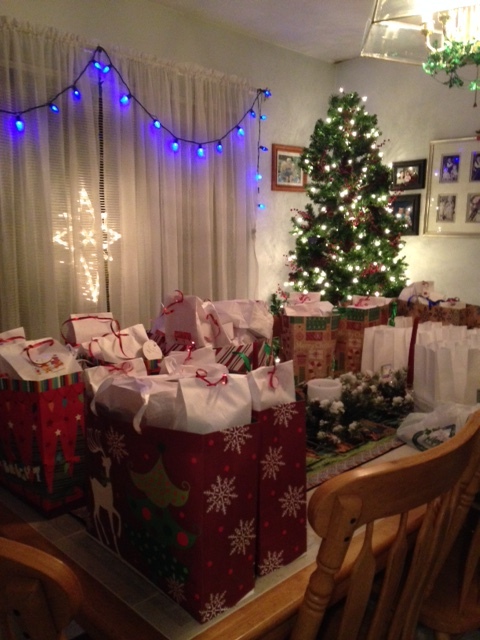 I love all the trimmings and trappings of Christmas. And, I love silence and solitude. The more I have of the second, the more I enjoy the first. Experts say this is rather common. In case you find yourself caught in the chaos of Christmas, here are three places I find some time for silence. Maybe you will find some, too.
Sunrise – Rising even fifteen minutes before everyone except the dog buys delicious silent time. This one works best if you like coffee, have an excellent view of a city skyline or a winter forest, or if you were not up three times in the night with a baby. But sunrise is pretty dazzling under the worst of circumstances. It tends to put everything into perspective. Even the to-do list or the lack of funds for gifts. Creativity might burst through with the light.
My car – Driving to the bank sets my soul free! Of course, my bank is twenty-five miles away along peaceful country roads. If you are fighting six-lane traffic, you might need to consider an alternate route. The trick is to silence your phone (for safety), choose low intensity traffic, and have a destination that meets some goal so you feel productive at the end. Take the long way to and from the mall, for instance. Use those extra minutes on your commute to breathe. And think.
The Dish pan – We own a wonderful, automatic dishwasher. Brilliant invention. But, I promise you, nothing guarantees solitude like the sound of water running in the kitchen sink. Squirt in a few bubbles of Dawn, and family members will disappear as if they have been abducted by aliens. I've had some of my best times with God while my hands were swishing around in the dish pan. Disclaimer: This tactic does not work with small children. They think any kind of water is playtime. The upside? You might get a chance to go to the bathroom alone if you let them wash dishes.
I have several other quiet spots in my life. But I'm not going to write about them here. Because, if I do, they won't be quiet anymore. Not that I think you are going to come knocking on my closet door, Dear Reader. But, I'm sure you understand my reluctance to invite you in, figuratively speaking. I'm sure you can add to the list on your own.
Here's wishing you the first of many Merry Christmas Moments this year. May some of them be silent.