Last week I got a little cranky, because, although we are living with this beautiful space: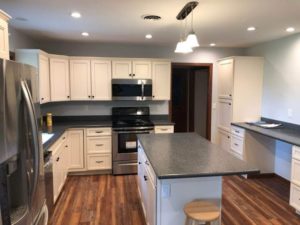 We are also living with this not-so-beautiful-and-totally-dusty space.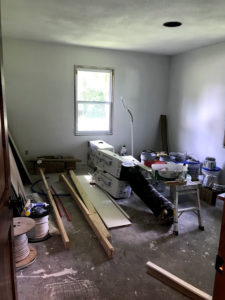 Some days I'm patient with the renovation process. Some days I want to write nasty letters to HGTV for giving me these ideas. On that particular day, I was just tired. So, I told myself I'd open one more box, find a home for the contents, and then stop for the day.
I opened a box with my grandfather's daily journal. He had left the family farm to become a preacher at a young age, and his family didn't understand that decision. His first wife died in childbirth, and his second wife, my grandmother, nearly died when my mother was born.
I plan to write his story one day, so I treasure these journal entries.I flipped a few pages and read the little details of family life in the 1930s. The usual about where he went, who he saw, what he preached, how little he was paid, and how grateful he felt. He ended with this sentence:
"We are living in the smokehouse at this time."
Dear Reader, I am an ingrate. I have never lived in a smokehouse. (Google that if you didn't grow up on a farm). Nor a chicken coop. (My grandparents did that for a season, too.) I've never even stayed in a tent for more than a few nights, and my grandparents lived in one beside the river for an entire summer. With a toddler.
So, perspective. It's a good thing. Especially when it comes from someone so up-close-and-personal as the late grandfather who baptized me and performed our marriage.
I'm going to unpack another box now. And move some of that construction stuff out of the bedroom. And remind myself to be forever grateful that:
I don't live in a smokehouse!
No. Strike that. Remind myself to be grateful – even if I live in a smokehouse.