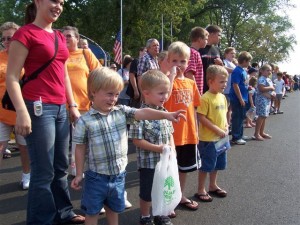 I love to watch the royals. Not the Kansa City version. Though I am partial to this book about the night the world turned Royal Blue.
Rather, I watch the royals from Buckingham Palace. The Queen and all her clan. It started when I discovered an Instagram account of a royal photographer. He captured casual moments with the royal family that made me want to invite them all over for supper so we could compare grandparenting stories. Or, actually, I wanted them to invite me over.
As I've perused these photoshoots and social media reports, I've noticed something. These royals work hard. And not just the upper layer, either. The hard workers include extended aunts, uncles, and cousins of the celebrity couples. Almost every day, members of this large family are out and about, representing the kingdom.
Prince Harry may stop off in a hospital and let a toddler pull at his beard. The amazing Duchess Kate might design a garden where her children and others will play. Prince Charles bestows a knighthood or listens to a farmer discuss his sheep. Somewhere in Africa, a duchess I've never heard of is visiting orphans. No matter what they are doing, though, it is always clear that the royals represent the Queen and her kingdom. You can't see them in a news flash without recognizing who they are and what they are about. And, it always seems filled with grace and goodwill.
This kingdom lifestyle flows down to the younger generation, too. Prince George and Princess Charlotte have already learned to smile, wave, and graciously accept the attention of strangers. The baby princelings will learn the same thing one day soon. Prince Louis is already a charmer, to borrow a pun.
As I've watched these acts of charity and service, I've wondered. Do I represent God's kingdom as fully? Is it clear in everything I say, every place I go, that I'm a citizen of a Heavenly Kingdom? Not in a pushy, better-than-you kind of way. But in words and actions filled with grace. Do I represent my King with kindness? And with love?
I believe I can do better. And I shall. Especially for the sake of the little royals who might be watching.
Cue the curtsy.