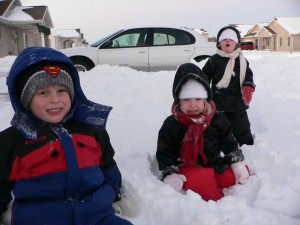 If you live in the Midwest, or the North, or the Northeast, or the Mountains of Anywhere, you are probably shocked by the sight of entire highway systems coming to a dead stop in Georgia over what we might call a skiff of snow.
It is almost beyond belief that dozens of children spent the night on school busses stopped in traffic. Others made it back to their schools. They spent the night with dedicated teachers who scrounged the cafeteria for food.
This is almost beyond belief for those of us who have been known to carry a shovel in the backseat so we can dig through the drifts to get home. But, it all comes down to expectations. We winter-dwellers expect to fight snow. We own boots. We buy sidewalk salt. We pay taxes for road crews with big ole' trucks and blades.
And, we complain anyway.
After watching the news from Atlanta, I am vowing to complain less. Instead of griping about the wind-chill and the snow drift in my driveway, I'm going to be grateful for my all-wheel-drive car. And for the neighbor boys who scoop my walk. And for the workers who plow all night.
I'm going to be glad that even here in blizzard country none of my children ever failed to make it home from school. I never spent the night in my car on the Interstate.
And, most of all, I'm going to be grateful that spring always comes!