Warning: It is late October, and Old Navy has sold out of several styles and sizes of Matching Family Christmas Pajamas. Sorry to say, I just contributed to the shortage.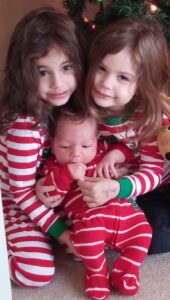 This was the year I thought I could change it up a bit. Two of the grands are away at college. Two more are engaged, and one is married. So, I mulled over the idea of a cut-off age. "Once you leave your parent's home, you no longer get matching cousin pajamas."
Something like that.
But, last night I heard Tevya belt out in my head, "Tradition!" And I simply couldn't knock this particular fiddler off the roof. Not yet.
Maybe, once the first crop of kids are married and in their own homes, I'll change it up. On the other hand, once those little great-grands start coming, I'll be tempted by the cozy Christmas fleece in the baby department all over again.
I think we can all agree the last couple of years have been hard. Sometimes cruel. Maybe holding onto a few traditions this year will help. Honestly, if no one else needs the comfort of Christmas jammies this year, they can donate their jingle jams to the Salvation Army. I really don't mind. Like Tevya, I'm probably keeping the tradition mostly for me.
Tradition!