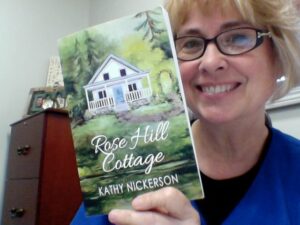 This is how my mind works. I noticed today is National Library Workers Day, and I immediately wanted to give a shout-out to Flora the Librarian. I wanted to send her flowers or write a sweet card. I wanted to swing by the Clarion Lake Library and thank her for being so kind.
Unfortunately, Flora is not real. At least, she isn't someone you could invite over for iced tea and cookies. She exists only in the pages of my novel, Rose Hill Cottage.
But, she is an amazing lady. Full of spunk and advice, always ready with a book recommendation or a new brownie recipe. She loves her husband and welcomes a stranger as if she is a long-lost friend.
I felt sad for a moment when I remembered that Flora is a fictional character. But I soon revived. Because Flora does exist. She lives inside all the amazing library workers I've known in my life. They each contributed a bit to her creation.
And that is why I love her so.
Happy Library Workers Day!!!