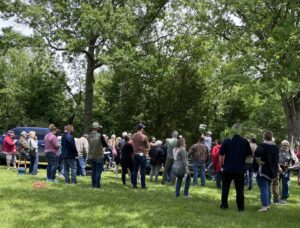 One year ago this month, we held a public auction and sold most of our earthly goods. The pandemic taught us we didn't want to grow old living so far from our children and grandchildren. Since the majority of them live in Nebraska, we pulled up stakes and crossed the great Missouri River.
If you want to feel deep humility, put all your pots, pans, tools, televisions, sofas, chairs, and bedroom sets on the front lawn. Add all the bobs and bits from the garage plus assorted Christmas decorations and so forth. Then, invite your neighbors over to bid on everything.
Do this same thing if you want to feel deeply blessed.
Our friends, neighbors, and family members sent us off on our westward journey with a much lighter wagon and a great deal more seed money.
But, a funny thing happened on the way to our lighter life. We got more stuff. Not nearly as much as before, but enough that we are decluttering again. After only twelve months, we are sorting, arranging, and taking stock of what we really need once again.
It is quite liberating to let go of stuff we no longer want to dust or store or tune up or tend. (She says as she continues to shop for a dining room table and a rug to put under her desk.)
Minimalist living is a whole thing these days, and we aren't trying to be that. It isn't our style. But, we are definitely trying to live with less. A few decades from now, we hope our children will be grateful they don't have to sort through a house, a garage, and two outbuildings while we celebrate in Glory.
In the meantime, we are freeing up some space and time for more important things in our new life. Like supper with our friends and snuggles with our grandbabies. Here's to less stuff, more life!