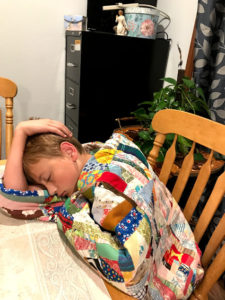 Hello Dear Reader,
With school starting soon, I'm thinking about schedules. Gramps and I are only impacted by back-to-school because we sometimes help with carpools or homeschools. Even so, schedules become important. So, here are three days I think we should all schedule for PTO this school year.
The First Day of School – If you have kiddos going back to school, mark yourself off work that first day, for sure. Even if you don't drive them or wave on the sidewalk as they leave, give yourself a casual morning to get them out the door. Then plan a free day for yourself like a mini vacation. If you don't have any students this year, take yourself on a date anyway. The first day of school is a great time to go to the zoo. Nobody will be there!
Bonus Points: As much as possible, block out your calendar the first two weeks after school starts. No after-school appointments, no evening commitments. Treat it like an after-work staycation. Challenging, I know. But our little kids are going to be exhausted for the first two weeks. Our big kids will be, too, but they won't fall asleep in their spaghetti to prove it. If nobody in your house goes to school, just consider this a semi-sabbatical. I'm sure you've earned it.
November 6th – If you live in a part of the U.S. that falls back to regular time in the middle of the first Saturday night in November, this is a good one. It feels like we got an extra hour of sleep on Sunday, but we probably just stayed up later. And, our kiddos are going to feel the change. Some of them may be coming home from ball practice after dark this week. Be gentle with everyone.
Bonus Points: Pretty much the same as above. Plan on two-weeks to make the change. Schedule yourself and your family lightly. Especially true for we people-of-a-certain age who may fall asleep in our chairs before supper instead of immediately after.
Your Birthday – Just because. Eat cake and enjoy.
Happy Back to School Month!