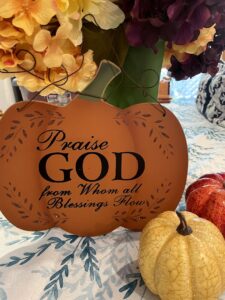 When I walk through the front door of a Hobby Lobby, I suddenly want to live inside the store. Or, at least transport major sections to my own living quarters so I can have the same delicious feel. But, I learned long ago that even if I carted home twenty-five boxes of stuff and scattered it about my home, it would never look the same. I don't have the touch.
I saw a job listing for a stager at Hobby Lobby, and I didn't even bother to apply. Nobody wants to visit a Hobby Lobby that resembles my living room.
However, our recent move into a smaller space has reminded me of something. It doesn't take much to give me that holiday feeling. Today, I unpacked the one, small tote marked, "Fall." I arranged a few leaves and snuggled three tiny pumpkins. Then I added the senior pictures of our kids from more than a few years ago. It all made me smile.
An hour later, our three youngest grandchildren dropped in. "Oh, Grandma," one of them said, "it looks like you are all ready for Halloween down here." This from a child whose mother just made her a stage-worthy Little Mermaid costume.
But, she is correct. I am all ready. I might add another touch here and there, but I am a woman who knows her limitations. And, until Hobby Lobby starts accepting overnight reservations, these little touches will certainly do.
Happy Fall!
P.S. If you are looking for a fall read, check out my novel, The Marvel House, which features Madge DuPree as a crotchety version of Mary Poppins.